Dr. Kalpesh Chaudhary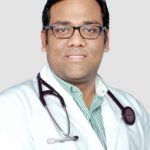 Speciality: M.D. (MEDICINE)
Dr. Kalpesh Chaudhary is an immensely renowned physician in Udaipur. He is a Consultant Physician and Director at Chaudhary Hospital & Medical Research Centre in Udaipur. He completed his MBBS from RNT Medical College, Udaipur, and post-graduation (MD) in Internal Medicine from the prestigious SMS Medical College in Jaipur.
Dr. Kalpesh Chaudhary has vast experience in the field of Medicine, especially in the areas of rheumatology, diabetology, cardiology, critical care and infectious diseases. He runs the 100-bed Chaudhary Hospital & Medical Research Centre, Udaipur which is known for quality healthcare at an affordable price.
The hospital is well equipped with all modern facilities such as CT Scan Sonography, 2D Echo, Laboratory, 24x7 Pharmacy, and ICU. A specialist critical care doctor is available round the clock physician.
Specialization
Critical Care
Rheumatology
Diabetology
Cardiology
Infectious Diseases
Accreditation